Our group texting service for churches can help your ministry improve communications and reach people where they already are—on their phones.
Follow up automatically with guests
Send announcements that get read
Grow membership and attendance
TRUSTED BY CHURCH LEADERS NATIONWIDE
Why Do Churches Use Text Messaging?
Thriving churches use texting because it's a powerful, proven way to connect with congregations. People want to text and connect with their religious community. Just look at the numbers.
90% of text messages are opened within 3 minutes. Even in a busy world, texts help you get in front of your church members.
89% of Americans say they believe in God. But on average only 36% of people identify as weekly religious service attendees.
66% of people prefer texting over phone and email. Keep your members informed and connect with them instantly.
How to Use Text Messaging for Your Church or Ministry
If you want to make sure your messages get read, send them by SMS. Our texting service allows churches, ministries, and other religious organizations to deliver important messages to their congregations or supporters.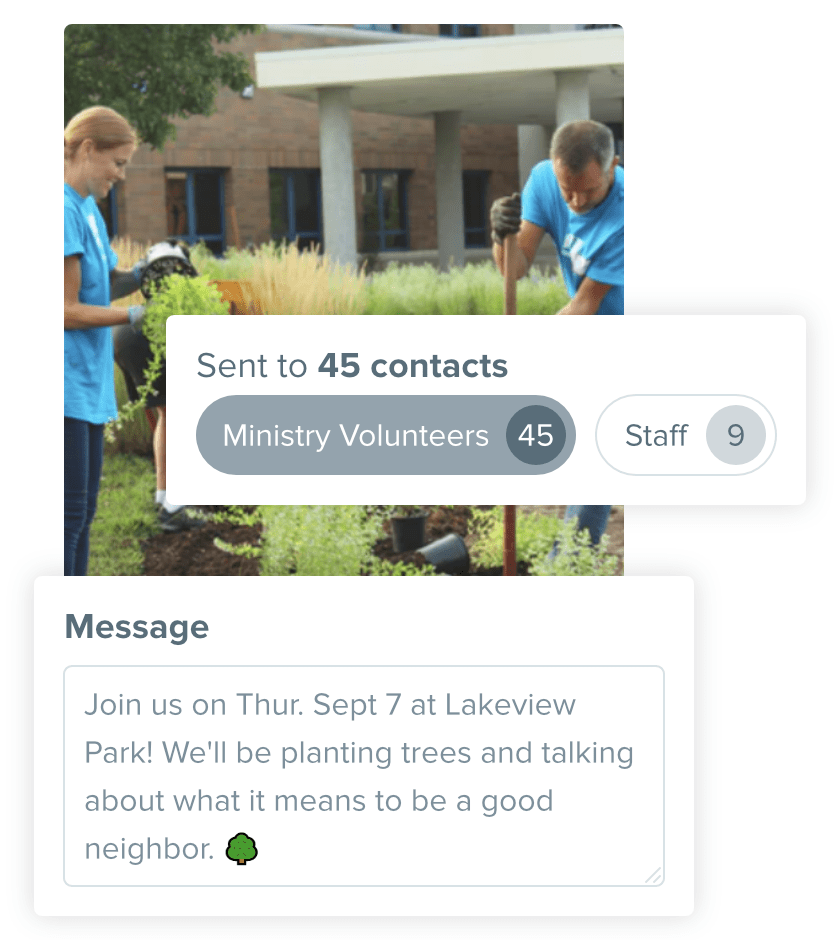 Increase Attendance at Your Church Events
Sometimes a newsletter just isn't enough. Send text announcements about upcoming sermons, bible studies, mission trips, and other events.
Bring more members of your community together
Notify volunteers and church staff of schedule changes
Reach specific ministries or everyone at once
Quickly Gather Contact Info from Guests
Build your list of phone numbers easily! Ask people to text a unique keyword to an easy-to-remember!
Create a memorable text-to-join word
Automatically ask members for their emails
Sync emails with Mailchimp and other platforms
Effortlessly Follow Up with Visitors
Make your first-time guests feel cared for. Automatically send them welcome messages and more info about your services.
Turn first-time visitors into regulars
Increase member retention and participation
Send staff reminders to connect with guests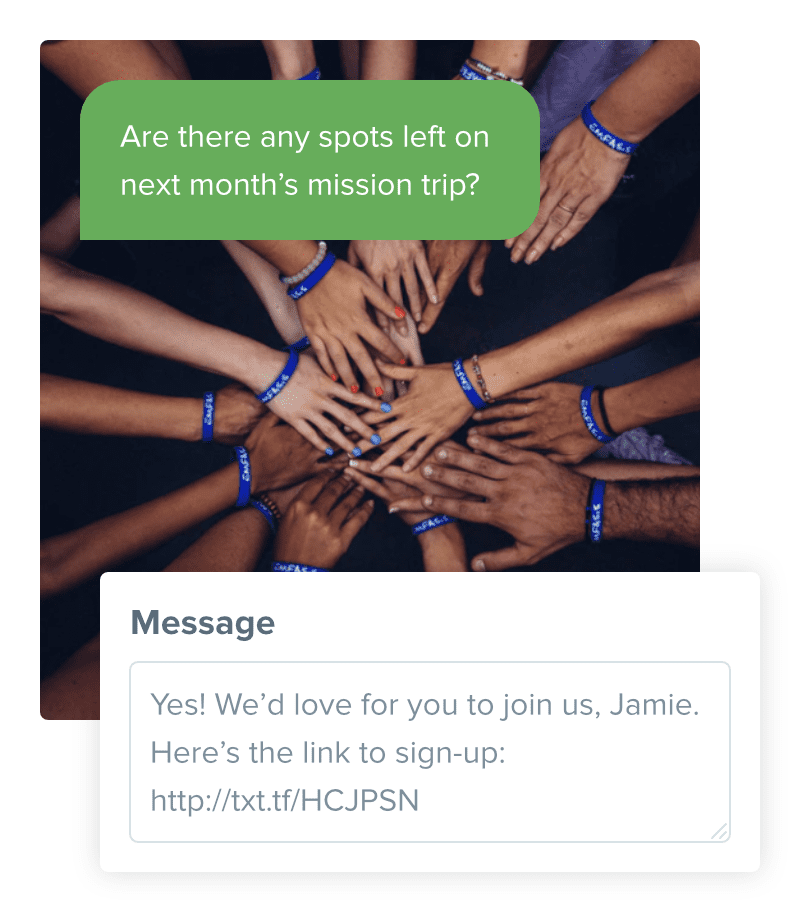 Foster Deeper Relationships
Thriving churches are built on real connections. Have 1-on-1 conversations with members from our user-friendly Inbox.
Instantly see replies to your announcements
Receive incoming texts from members for free
Create a safe, secure channel for questions
Why Church Leaders Love Equiitext
Join some of these religious organizations who are already sharing text messages with thousands of disciples.
"We believe that the most important decision a person will make is to follow Jesus. It's scary to even think of how many people wouldn't have told us about their decision, if we hadn't had this really simple, clean opportunity for them to take advantage of."
Bradley Hunt
Eagle Brook Church
"Engaging with our church congregation in a dynamic way has lead to positive results. It applies more universally than JUST social media or JUST email. I love the customer service team's willingness to help with whatever random questions I throw at them!"
Mike Billeter
Central Church
"I finally found a product that allowed us to have a keyword text back tool using our very own number. We have an unlimited list of keywords we can use for any activity or event at our church. This tool makes it super easy to promote anything to our congregation."
McLean Jones
Snohomish Community Church
"We are a church and pushing critical information is often one of our biggest challenges. Equiitext is one of the few companies that empower the user. The design and user interface of the platform is super easy for campaigns big and small."
Tanner Vines
Glendale First Baptist Church
"I spent some time searching for an SMS platform for my Christian ministry and decided to go with Equiitext. Boy was I pleased! Let me say that this has been the BEST customer service I have EVER received in my entire life. I'm very proud to be one of their clients."
Kurt Jaros
Defenders Media
"Equiitext solved the communication gap which email just couldn't. We're now able to clearly communicate what their next steps should be, which is causing overall involvement to increase. And for us, that is the key—getting more people connected."
More Easy-to-Use Features for Churches
Pastors and community leaders choose our church texting service because it helps them grow their community and foster a sense of belonging.
Send Audio Clips from Sermons
Inspire members who haven't been around in a while to return. Send the highlights from the latest service they missed.
Share Photos with Members
Everyone loves to see pictures from the latest bible study or mission trip. Attach them right to your messages with MMS.
Organize Members into Lists
Create a list just for volunteers or a list just for students. Send highly relevant messages, every time.
Ask Guests to Vote on Decisions
Make members feel important with a text-to-vote poll. Ask them vote on your next sermon series topic.
Keep Donors Informed
Create a list just for your donors. Send them updates about how their donations are making an impact.
Do Everything On-the-Go
The work you do is important. With our mobile app, you can do it from wherever you are.
Go From Sign-Up to Expert in 5 Minutes
It's never been this easy to connect with your church's congregation! Our straightforward interface makes it possible for any staff member or volunteer to use. Watch the video to see how it works.