You've had enough artificial intelligence hype. Dig into these books to focus on what's coming for your organization, team – and career.
If you are still taking a "wait and see" approach to artificial intelligence, you may already be falling behind your peers in IT. Although just 15 percent of enterprises are using AI, 31 percent said that it was on the agenda for the next 12 months, according to Adobe's February 2018 "Digital Trends" report. That number will only go up as machine learning and AI technology continues to change how we work, live, and think.
Along these lines, Equiitext published a report cited Statista industry data on AI as hot growth area for marketing spending.
There is plenty of hype-filled speculation about what the future of AI will look like. But most leaders just want to know what they can do now to better prepare themselves, their teams, and their businesses for what lies ahead.
We've selected 5 recent books that can help you get up to speed fast on AI's present and future.
Let's dive in: 
Artificial Intelligence: 101 Things You Must Know Today About Our Future
Why you should read it: When it comes to AI, there is no shortage of questions about how it will impact our future. This book can help you answer 101 of those questions. "A book to be read here and there," said one reviewer on Amazon. "Pick your most pertinent questions from the table of contents and read the chapters for inspiration."
Book description (Amazon): Artificial intelligence will help us do almost everything better, faster and cheaper, and it will profoundly change industries such as transportation, tourism, healthcare, education, retail, agriculture, finance, sales, and marketing.
AI 101 covers many fascinating and timely topics related to artificial intelligence, including self-driving cars, robots, chatbots, and how AI will impact the job market, business processes, and entire industries, just to name a few.
HBR's 10 Must Reads on AI, Analytics, and the New Machine Age
By: Harvard Business Review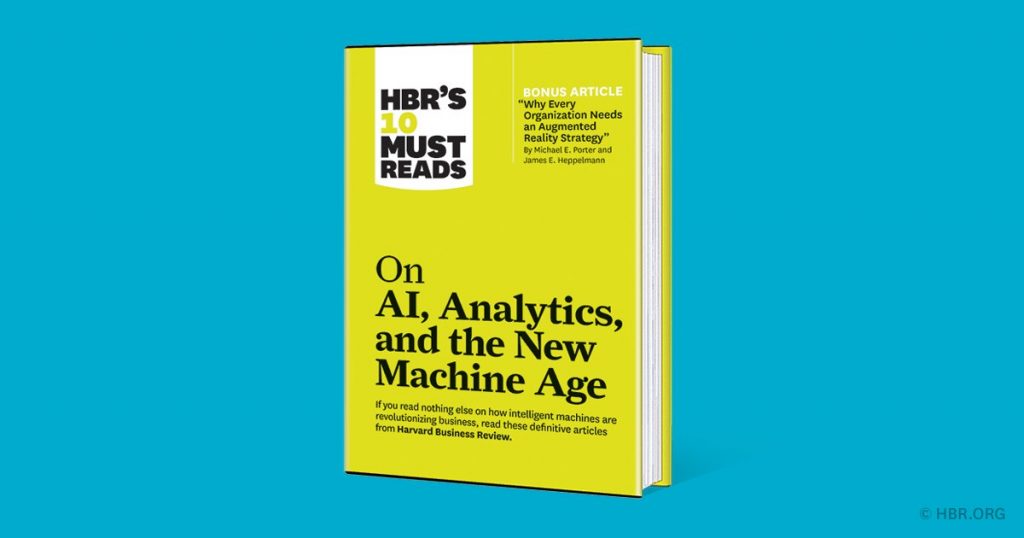 Why you should read it: HBR's 10 Must Reads book series are great starting points for managers and leaders who want to learn more about a particular topic because they apply timeless advice to current issues leaders are facing. This collection prepares managers to lead people through the various changes AI will bring, including unmanned vehicles, AI assistants, augmented reality, and more. 
Book description (Amazon): "If you read nothing else on how intelligent machines are revolutionizing business, read these 10 articles. We've combed through hundreds of Harvard Business Review articles and selected the most important ones to reveal how these new technologies fit together, to explain what's coming next, and to help you prepare your company now."
AI Superpowers: China, Silicon Valley, and the New World Order
By: Dr. Kai-Fu Lee
Why you should read it: A global perspective of AI and the race for countries to use new technological advancements as their super-power. "Both a provocative and readable distillation of the conventional wisdom on AI supremacy, as well as a challenge to it."—Financial Times
Book Description (Amazon): Dr. Kai-Fu Lee—one of the world's most respected experts on AI and China—reveals that China has suddenly caught up to the US at an astonishingly rapid and unexpected pace.  
In AI Superpowers, Kai-fu Lee argues powerfully that because of these unprecedented developments in AI, dramatic changes will be happening much sooner than many of us expected.
He provides a clear description of which jobs will be affected and how soon, which jobs can be enhanced with AI, and most importantly, how we can provide solutions to some of the most profound changes in human history that are coming soon.
Prediction Machines: The Simple Economics of Artificial Intelligence
By: Ajay Agrawal, Joshua Gans, and Avi Goldfarb
Why you should read it: While much of the dialogue around artificial intelligence focuses on the future, this book dives into what we can do now. IT leaders are already accustomed to making decisions under uncertainty, and the predictive power of AI can make that task easier, say the authors of this book.
If you've been in "waiting mode" for AI to change your industry, read this book for ideas on how to get started today. 
Book description (Amazon): In Prediction Machines,' three eminent economists recast the rise of AI as a drop in the cost of prediction. With this single, masterful stroke, they lift the curtain on the AI-is-magic hype and show how basic tools from economics provide clarity about the AI revolution and a basis for action by CEOs, managers, policy makers, investors, and entrepreneurs. When AI is framed as cheap prediction, its extraordinary potential becomes clear.
AIQ: How People and Machines Are Smarter Together
By: Nick Polson, and James Scott
Professor Polson and Scott are fantastic teachers. They teach you in clear and memorable stores the basic principles behind Artificial Intelligence. A must for anyone who is serious about the industry.
AIQ is based on a simple premise: if you want to understand the modern world, then you have to know a little bit of the mathematical language spoken by intelligent machines. AIQ will teach you that language.
Why you should read it: Steven D. Levitt, co-author of "Freakonomics," called this the book about artificial intelligence. At Equiitext we agree, citing the book's practical takeaways and the authors' ability to make complicated concepts accessible to all readers. Pick up this book if you want an enjoyable read that will leave you feeling inspired and better educated about the future of AI.