Equiitext General FAQ
HOW DO I GET STARTED?
Getting started is quite easy. Click on
FREE SIGNUP
(See in the upper right corner). You will be asked to fill the form and confirm your email address. You will also be asked to add your cellphone number to receive a code to activate your account. This must be a phone that can accept SMS messages. The next step is to contact us to set up free training to use our platform. You will get more value from our products plus get to know our team.
HOW MANY CREDITS DO I NEED?
Choose the best package based on the following:
○ How many contacts do you have?
○ How many times per month do you send to them?
○ How many replies do you expect back?
If you are sending out a call to action that takes your contact to a web link or a pre-recorded message, you may not be using as many auto-replies and responses. The easiest way to estimate your needs is to take the number of contacts you have multiplied by the number of times per month that you will be sending out a text.
For example, say you have 5,000 contacts and plan to send them a message 2 times per month. This would equal 10,000 messages each month. We then multiply that number by 4 (to account for the responses they will likely send back to you) and suggest approximately 40,000 credits. The best option for you would be our monthly subscription package of 37,500 or 50,000 credits.
Equiitext is a credit based system. Dollars are converted to credits ($$/cost per credit).
Campaign Credit Breakdown
| | |
| --- | --- |
| VIRTUAL NUMBER LVN | 100 credits per number/per month |
| VIRTUAL NUMBER TF | 500 credits per number/per month |
| SCRUB Paid Land Line | 1 credit from matched Scrubbing credits* |
| SCRUB Paid DNC (Do Not Call) | 1 credit from matched Scrubbing credits* |
| SCRUB Carrier LookUp | 1 credit from Monthly Subscription |
| SCRUB Caller ID LookUp | 1 credit from Monthly Subscription |
| OUTBOUND SMS Scheduled Campaign LVN | 1 credit per message sent |
| OUTBOUND SMS Scheduled Campaign TF | 2 credits per message sent |
| OUTBOUND SMS Campaign LVN | 2 credits per message sent |
| OUTBOUND SMS Responder LVN | 2 credits per message sent |
| INBOUND SMS Responder LVN | 1 credit per message received |
| OUTBOUND SMS Campaign TF | 4 credits per message sent |
| OUTBOUND SMS Responder TF | 4 credits per message sent |
| INBOUND SMS Responder TF | 1 credit per message received |
| INBOX OUTBOUND INDIVIDUAL | 1 credit per message sent |
| INBOX CLICK 2 CALL | 1 credit per minute |
| DEFAULT FORWARD VOICE | 2 credits per minute |
| Email Notification | .5 credits per notification |
| SMS Notification | 1 credit per notification |
| VB Outbound Campaign | 2 credits per send |
| API Send Campaign | 2 credits per send |
Fortunately, millions of landline numbers already exist in the EquiiText database, and users are not charged for scrubbing these numbers. It is also worth noting that each user receives an equal number of landline-scrubbing credits as their subscription amount (i.e. a 1,000-credit subscription nets a user 1,000 free landline-scrubbing credits).
WHY CREDITS, I AM CONFUSED. SUBSCRIPTION vs. PAY AS YOU GO
What is a Credit?
We use a credit system rather than a dollar amount on your account. This seems complicated at first, but it is the easiest method to understand once it is explained. Texts sent out on the Cloud platform are sent at a cost of 2 credits per message. The higher your subscription level the lower the cost per credit. Come grow your business and join our
Millionaires Club
for the best rates. Ask one of our Sales Associates.
Contact Us
Monthly Subscription Levels
| | | |
| --- | --- | --- |
| Subscription Level | Total Cost | Cost Per Credit |
| 2,500 | $23.95 | $0.00958 |
| 5,000 | $46.85 | $0.00937 |
| 7,500 | $68.71 | $0.00916 |
| 10,000 | $89.52 | $0.00895 |
| 15,000 | $131.13 | $0.00874 |
| 20,000 | $170.65 | $0.00853 |
| 25,000 | $208.06 | $0.00832 |
| 35,000 | $283.95 | $0.00811 |
| 50,000 | $395.16 | $0.00790 |
| 75,000 | $577.02 | $0.00769 |
| 100,000 | $748.39 | $0.00748 |
| 150,000 | $1,091.13 | $0.00727 |
| 200,000 | $1,412.90 | $0.00706 |
| 250,000 | $1,713.71 | $0.00685 |
| 350,000 | $2,325.81 | $0.00665 |
| 500,000 | $3,217.74 | $0.00644 |
| 1 MILLION | $5,387.10 | $0.00539 |
Looking for discounts?
Purchasing a
Monthly Subscription
gives automatic discounts with each higher level of purchase.
Monthly Subscriptions will automatically renew every 30 day period.
Unused credits will be rolled over to the next month.
Pay As You Go
credits can be purchased via Auto Recharge (Top Up) with the subscription level saved as Pay As You Go then click SAVE to trigger your purchase.
Pay As You Go credits are purchased at a rate of $0.015 per credit with no expiration.
WHAT DO I DO? I AM OUT OF CREDITS.
Head over to Settings>Billing in your Cloud account (cloud.equiitext.com)
Resubscribe by changing our current subscription to Pay As You Go. Then will need to SAVE. You are presented with the notification window to accept the change to your account. Select OK then return to the dropdown of Monthly Subscription Options. Make your choice then select Save. You are presented with the notification window once more. Select OK and you will see the confirmation that your transaction is processed. Refresh your credits remaining to update.
You also have the option of setting up the Auto Recharge (Top Up) so that once you are at the recharge threshold that you set, you will be charged and your credits replenished. This prevents your account from running out of credits. If you run out of credits while running a campaign, everything will be paused. Calls cannot be forwarded, campaign messages stop sending and your auto replies will be paused. After replenishing your account with credits, you will still need to manually review your inbox for messages that need to be responded to.
HOW DO I USE AUTO RECHARGE? (TOP UP)
Auto Recharge can be set to make sure that you never run out of credits. If your campaign is paused due to running out of credits no responders will be triggered or forwarded calls. You can set it to the level you wish to renew at. For example: If the balance falls below 2,500 credits (see image) then the option is to choose the amount to allow the system to recharge.

Auto Recharge also gives you the option to Pay As You Go in smaller increments. The maximum credit purchase is 3,000 credits at a cost of $45 ($0.015 cost per credit) This method is not recommended if you are sending more than 1000 contacts per campaign.
CAN I HAVE MORE THAN ONE ACCOUNT?
Yes. We recommend asking for an Management Agency account role which allows the convenience of multiple subaccounts which will pool credits from the parent account monthly subscription. The Management Agency user may create their own user subaccounts with password for individual log in.
I CAN NOT LOG INTO MY ACCOUNT?
Please make sure that you are accessing your account at
cloud.equiitext.com
. If you are unable to access your account you can click on Forgot Password and you will receive a link via email with a temporary password to reset. If this is a new account that you have not logged into previously please contact customer support 1-888-501-3550.
WHAT PHONE NUMBER WILL BE SEEN ON THEIR DISPLAY?(TOP UP)
Virtual numbers are purchased on your account to send messaging to your contact group. This will be the number your contact sees on their display.
MY CONTACTS ARE NOT SHOWING AFTER IMPORTING
The most common error that we see is the import of .CSV sheets lacking the headers. You must have Phone Number, First Name and Last Name present in the first row of your .CSV.
Your numbers must be free of special characters. In other words, there cannot be any parenthese, dashes, spaces or periods.
| | | |
| --- | --- | --- |
| Phone Number | First Name | Last Name |
| 9513487859 | John | Smith |
WHY ARE MY TEXTS NOT SENDING FASTER?
There are several reasons that texts can seem to send slow.
1. Look at how many virtual numbers you are using. If you are using one virtual number to send out your campaign you are going to average about a text per minute to send.
2. Activate the Smart Rotator and make sure that you have purchased at least 5 virtual numbers. This is best practices. Smart Rotator Activation can be found in Settings-Advanced Settings-Number Settings (Active by default) Using either Rotator feature allows you to send campaigns from all your phone numbers at once. It uses a smart algorithm for rotating through your phone numbers when sending campaigns. When recipients respond, it will remember to reply back from the same number. Check the tick box and SAVE your change
3. Choose Your Rotator!
Smart GEO Rotator (This was our previous one. It's slower but better) Fast Random Rotator (This one removes all the functions and just randomizes the "FROM" number from your pool.
So, if you want to send a second message to the same group and you want it to remember which "FROM" number it used last time, use Smart GEO.
If you just want speed, use Random
WHERE DO I GET CONTACTS TO SEND TO?
We often get the question asked 'Where do I get data from?' Well, here we will go over exporting data from your Gmail account to a CSV sheet that can be imported to either your Android Equiitext App or the Cloud App within your Chrome or Firefox browser. See directions in Equiitext Tutorials.
HOW TO PREVENT NUMBERS BEING BLOCKED?
Always Remember Equiitext is JUST the MESSENGER!
We are consistently evolving our products to get better deliverability to your customers for the best response rate. Are you having trouble with your deliverability? We would love to help.
Over the past year, we have added safety features such as the Spam Score, Limitation on Characters, Speed Bar, Spin Tax, URL Shorteners, Auto-Replace and Failovers. These are all in the hopes that we can help you get the message out to your customers without blocks.
The most common reason that numbers are blocked on your account comes from the carriers flagging your messages as Spam. Keep a close eye on the message 'score' which tells you if your message will register as SPAM. Try to keep the SPAM score number as low as possible. What makes your message appear as SPAM can be URLs and phone numbers in the messages.
SPAM SCORING IS CURRENTLY DISABLED. Sorry for the inconvenience.
CANNED RESPONSES SENT BY EQUIITEXT SOUND STUPID.
Save yourself time and money!
Always edit your auto replies and auto responders to fit your business. We have generic templates for your accounts but you still need to edit them to make sense to your customers. Not all auto replies will relate to your business model.
The easiest solution to edit or add replies and responses is use the import/export options at the bottom of your auto-reply page. Exporting will prompt you to Open the Auto Reply Export CSV with Excel or you can save your file to your File Manager.
Edit your replies and responses then click on Import to upload your edited replies and responses to your Cloud Dashboard.
Whenever you make changes, be sure to click on 'save' so you do not lose any changes.
HOW DO I KNOW HOW MANY CREDITS I HAVE LEFT?
In your Cloud account (www.cloud.equiitext.com) you can click on STATS and you will see all the statistics related to your account. See image.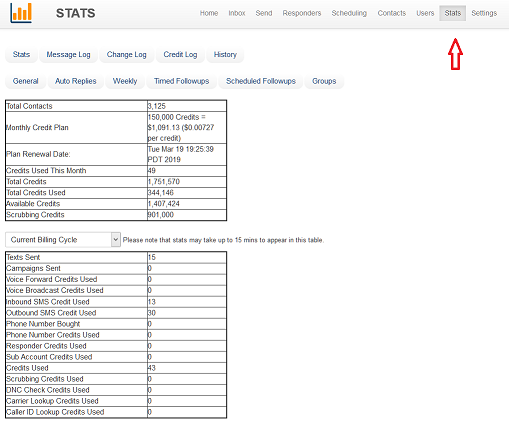 I NEED HELP, BUT NO ONE ANSWERS THE PHONE. WHY?
Our Support Hours for Phone and Live Chat are 9 AM to 5 PM Pacific Monday through Saturday. You can send offline messages to the support desk or email us directly at support@equiitext.com