Lenders trust Equiitext's Patented Conversational Artificial Intelligence messaging to have engaging conversations with customers and leads.
Equiitext utilizes machine learning to recognize natural language, intent, and dialogue to have engaging conversations with customers and prospects. Equiitext provides a platform for high-performing, resilient, proprietary contextual messaging that works.
Velocify LeadManager Integration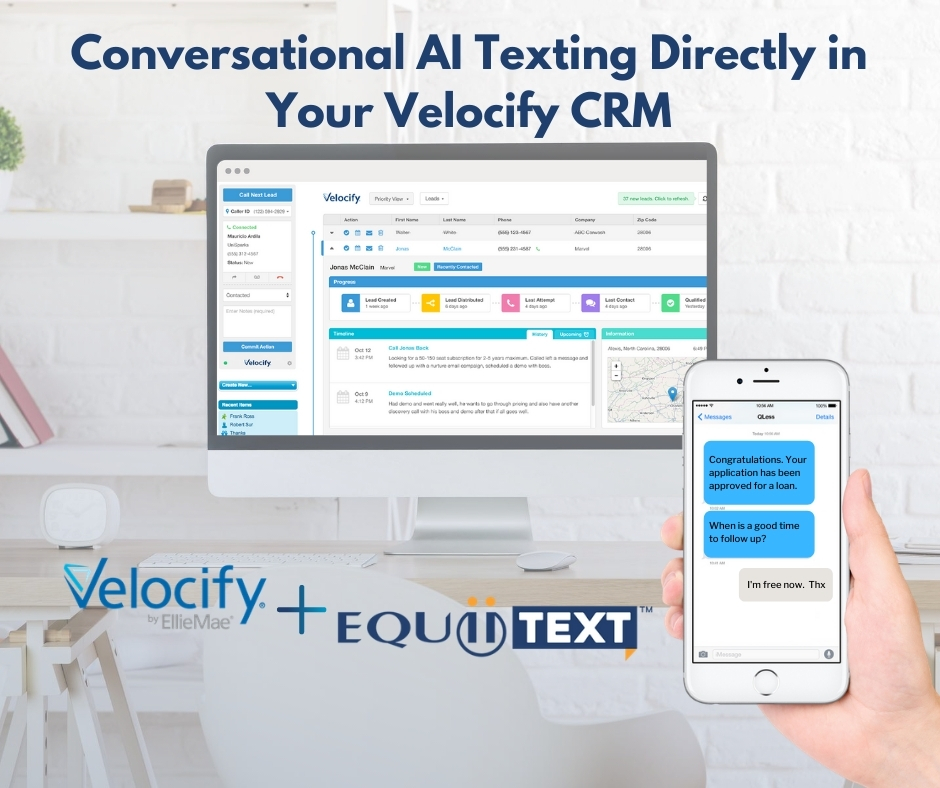 Equiitext's patented conversational AI messaging starts conversation with each lead to determine purchase intent, while the Velocify platform swiftly assigns the appropriate qualified leads to a sales team and guides that team on the how, why, and when of converting that lead into a buyer. The Equiitext-Velocify combination essentially drives a personalized sales experience at scale.
When a contact responds, Equiitext's AI will take over, sending any required conversational responses. When the contact triggers a responder, an API response will be sent to the Velocify CRM system providing the message received from the contact and the lead provided.
Engage with your leads in their preferred method, mobile
Automated conversational messaging the preferred method of communicating for your prospects. separates the good leads from the dead ones, so sales reps talk only with prospects who want to talk to them.
Follow up with every single lead
Equiitext yields higher returns due to it's patented AI and natural language processing which follows up with prospects- thereby dramatically boosts their number of closed deals. Equiitext will update the Velocify CRM system lead status when a customer triggers a specific Artificial Intelligence responder within the Equiitext system.
Gather critical business intelligence
Prospects both respond more readily and share critical information such as phone numbers, best times to call, and intent to buy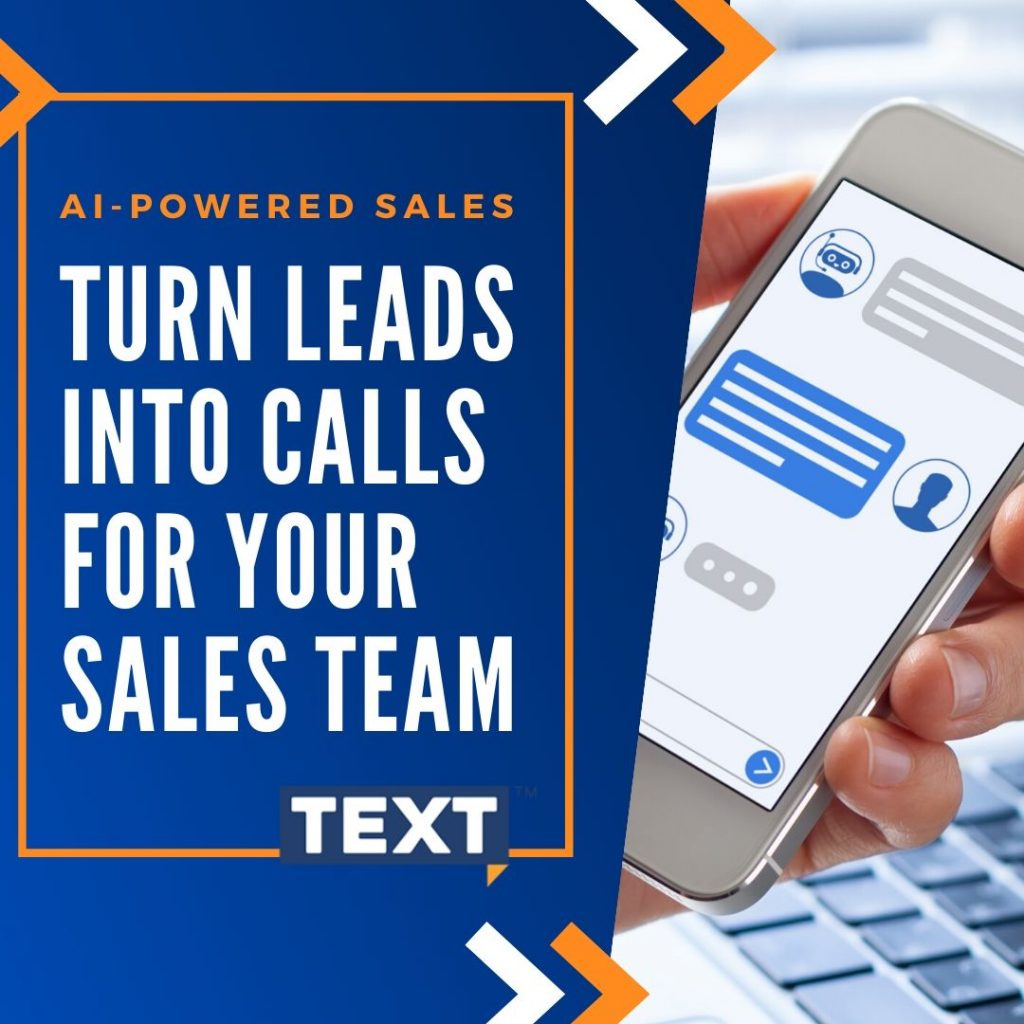 Benefits of Velocify and Equiitext Integration
1. Keep sales aware in real time
Sends hot lead alerts to sales after identifying interest from text message responses.
2. Initiate conversational from Velocify
Add your leads to Velocify, initiate Equiitext based upon Velocify filters, and the patented AI platform manages the conversations
3. Track within Velocify
Equiitext' automatically updates status of lead engagement and text message dialogues in real time within Velocify
Equiitext's AI-based lead engagement solution automates and improves your conversions.
Get a personalized sales experience at superhuman scale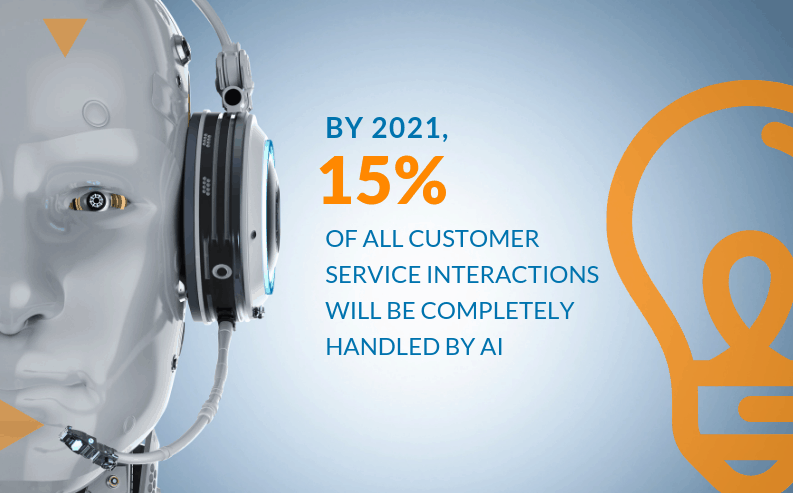 Equiitext brings a powerful true artificial intelligence dimension to marketing automation. Rather than relying on guesswork and predictions, Equiitext identifies the best leads by asking them – and they answer.
Equiitext ensures that every single lead is followed up on and that salespeople spend their days talking with the ones who want to talk with them. Add to that Velocify, which ensures that they do so as quickly and optimally as possible, and you have a powerful lead conversion combination.
Equiitext and Velocify together bring more speed and control to the entire sales process, helping teams prospect with more precision, accelerate lead engagement, and implement optimized workflows, ultimately helping sales teams find and convert even more leads.
Integrate seamlessly with Velocify
Equiitext integrates easily with Velocify using published APIs and pre-built integration.
Velocify page has created in the stage siteUsing your criteria, create a filter that identifies which leads you'd like Equiitext to begin engaging in human conversation.
Equiitext will keep you fully updated in Velocify via its custom status fields and messaging fields: Which leads are hot, which are at risk, which require action.
You can also automatically leverage this information within Velocify – for example create a filter that says "If this lead is an Equiitext hot lead, assign it to this person"
The full back-and-forth email conversation with each lead is available in the Velocify lead record, in Equiitext's dashboard, in optional email alerts and in your CRM system (we're also integrated directly to Salesforce and the mobile Salesforce app).
To schedule a demo or learn more contact Equiitext at support@equiitext.com, by phone or text at 888-501-3550 or directly on chat.